Strongest WWE Wrestlers ▷ Top 10 Strongest Wrestlers in WWE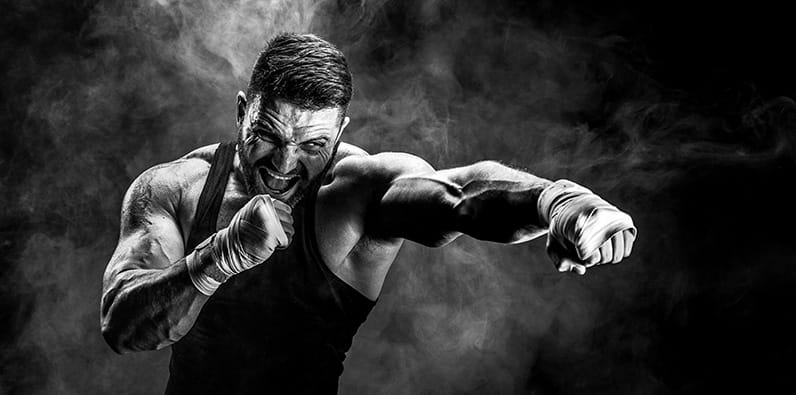 The history of the WWE championship knows many skilled and passionate players who fought deadly and bloody matches. Many have become idols thanks to their characters and wrestling techniques. However, many have managed to stand out with exceptional physique and a combination of skills that made them the raging bulls in the arena. This is why in this article we would like to present to you the top 10 strongest WWE wrestlers of all time who have engraved their names in the WWE hall of fame for all times.
The Top 10 Most Famous Strong WWE Wrestlers
1. Dwayne Johnson – "The Rock"
Well, our list of the top strongest wrestlers in WWE could not begin without one of the most recognisable figures in this sport – "The Rock". He became extremely popular even at the very beginning of his appearance on the stage. Many started to adore him for his wrestling style. However, he is also among the top 10 strongest WWE wrestlers because he has one of the best physiques in the sport. Quite soon, he managed to gain the reputation of a champion.
Name
Dwayne Johnson
Ring Nickname
"The Rock"
Debut
1996
Height
196 cm
Weight
118 kg
The Rock's real name is Dwayne Johnson. Nowadays he is, even more, popular with his acting career that started after he retired from WWE. Nowadays, he is the leading actor in many popular movies, many of which became blockbusters. Dwayne Johnson was born in California, USA, and before wrestling, he was a rugby player too. His father – Rocky Johnson, was also a professional wrestler. The movie career made The Rock extremely popular nowadays, but we can never forget his performance as one of the WWE top 10 strongest wrestlers.
2. John Cena
This list of the top ten strongest WWE wrestlers of all time must definitely continue with another very famous player – John Cena. We all know him for his severe outlook and Hulk-like muscles ready to smash you. John Cena is maybe one of the best strongest wrestlers in WWE, and we know just a few ones that meet his exceptional physique.
Name
John Felix Anthony Cena Jr.
Ring Nickname
John Cena
Debut
November 5, 1999
Height
185 cm
Weight
114 kg
For those of you who may not know, John Cena also has a career as a movie star. He's been acting in many interesting action movies, including "Bumblebee" – part of the "Transformers" film series. Yet another thing that we will not forget is the opening music theme on which John Cena used to enter the ring. What also makes John Cena among the most beloved WWE wrestler is the fact that he often tries to cheer up his fans and to encourage them to never give up.
3. Triple H
Back in those days when wrestling mania was still very popular, players had to show that they were strong and fierce. This was possible thanks to the fact that many of them were trained well. The following icon featured in our list of the strongest WWE wrestlers is Tripple H. His appearance on the ring has always provoked extremely big interest. The crowd used to go crazy even while waiting for him to show on the stage under the "time to play the game" words from the iconic song by the hard rock band "Motorhead".
Name
Paul Michael Levesque
Ring Nickname
Triple H
Debut
March 24, 1992
Height
193 cm
Weight
116 kg
The real name of Tripple H is Paul Michael Levesque. He began to train as a professional wrestler in 1992 in Killer Kowalski's school in Malden. Triple H has won different WWE belts and championships. His career in the sport is quite long. Due to his big success and many achievements, he was inducted into the WWE Hall of Fame. He managed to build a strong reputation as one of the WWE top 10 strongest wrestlers.
4. The Undertaker
Some of the strongest wrestlers in WWE were so scary that they even made their opponents shiver. Or at least this was part of the show that many of us loved to watch. Now it is time to mention a WWE wrestler whose image was innovative for the time and provoked controversial feelings among the audience. We will remember The Undertaker as the executioner in the ring. He literary used to bury his opponents under the stage, signing their death penalties. Of course, all this was part of his show.
Name
Mark William Calaway
Ring Nickname
The Undertaker
Debut
June 26, 1987
Height
208 cm
Weight
140 kg
Although The Undertaker did not have the shaped and rippled muscles of wrestlers like The Rock or John Cena, still he was very dangerous. His strength was not to be underestimated as he used to lift his opponents with his two hands up in the air and smack them on the ground just like that. His natural power and attractive performance helped him rank among the top ten strongest WWE wrestlers.
5. Kane
The history of WWE knows many wrestlers who are surrounded by myths of being demons or underground creatures. But no one is more demon-like than Kane. During most of his career, he used to wear a red and black mask and a noticeable suit. His appearance was very well-thought-out, and this helped him stay as one of the most popular wrestlers in WWE. As a wrestler, Kane was very tall – 213 cm, and very strong for his 147 kg. This helped him beat his opponent in many different ways.
Name
Glenn Thomas Jacobs
Ring Nickname
Kane
Debut
1992
Height
213 cm
Weight
147 kg
Well, as you might guess, Kane is his stage name, while his real name is Glenn Thomas Jacobs. He used to take part in a few movie productions but he did not manage to make a film career as Dwayne Johnson or John Cena. Instead, after he retired from WWE, he involved in politics. In 2018, he was elected mayor of Knox County.
6. Steve Austin "Stone Cold"
Our list of the top ten strongest WWE wrestlers will continue with another prominent figure. We all know "Stone Cold" Steve Austin and his great performance that included smashing a beer kan before the fight. His wrestling career began in 1989 and ended in 2003 when he retired. In the WWE ring, he was famous for being one of the "bad guys" who didn't want to team up with others. However, this did not stop him from achieving great popularity and deserving a place in the list of the top ten strongest WWE wrestlers of all time.
Name
Steven James Anderson
Ring Nickname
Stone Cold
Debut
September 30, 1989
Height
188 cm
Weight
114 kg
Apart from his wrestling career, like some of his colleagues, Steve Austin also appeared in a few Hollywood productions, mainly action movies. Besides, Austine appears in almost all of the WWE video games that were launched during the years. His popularity never faded away, and he stayed as one of the most popular WWE wrestlers in history.
7. Goldberg
Many wrestlers deserve the attention of the audience. However, the next one in our list of the strongest wrestlers in WWE is Goldberg. This human-machine first competed in the ring from 1995 to 2004. Later, Goldberg returned to WWE in 2015 to continue his glory path. Many of his opponents feared him as he was 193 cm high and weighs over 128 kg. These proportions carried a tremendous pack of muscles that were ready to smack down anyone who faces him.
Name
William Scott Goldberg
Ring Nickname
Goldberg
Debut
June 23, 1997
Height
193 cm
Weight
129 kg
Before wrestling, Goldberg had a football career that lasted a couple of years – from 1990 to 1995. He used to play for the Los Angeles Rams in the 1990 NFL Season. Goldberg is yet another wrestler who has become part of the WWE Hall of Fame thanks to his long career and contribution to this sport.
8. Hulk Hogan
Now it is time to give credits to one of the total icons in WWE – the mighty Hulk Hogan. He is probably the most famous of all. Many of you make a direct association between WWE and the name of Hulk Hogan. And he is "Hulk" indeed. He was once proclaimed as one of the strongest WWE wrestlers with the biggest hands. And he used to show this in the ring often. Hogan is very recognisable thanks to his white moustache that still remains an inseparable part of his look.
Name
Terry Eugene Bollea
Ring Nickname
Hulk Hogan
Debut
August 9, 1977
Height
201 cm
Weight
137 kg
What else you may also know about Hogan is that his popularity also led to many television and movie roles. He participated in a bunch of action movies. He even hosted a television show named Hulk Knows Best. Hogan has his handprints put in front of the Great Movie Ride at the Hollywood Studio of Walt Disney.
9. Batista
If we are talking about muscles and power, then Batista is the next name to mention in this article about the strongest wrestlers in WWE. Batista is literary a beast that is 196 cm. high and has a total weight of 132 kg. He started his WWE career in 1999 and competed in the ring until 2010. After a couple of years, he made a big return in WWE in 2013. Unlike some other of his colleagues in WWE, Batista also started an MMA career in 2010. Thus, many of his fans used the services of the best WWE sports betting sites to wager on his matches.
Name
David Michael Bautista Jr.
Ring Nickname
Batista
Debut
October 30, 1999
Height
198 cm
Weight
132 kg
Being so strong and having a reputation as a good wrestler helped Batista show his talent in the movies too. He appeared in many Hollywood productions such as the "Guardians of the Galaxy" that managed to generated huge income. Thanks to his fame, he also appeared on the covers of various muscle and fitness magazines too. Yet another interesting fact is that in the period between 2000 and 2010, nearly 170 action figures of Batista had been released.
10. Kurt Angle
Although it is time to present to you the last member in our list of the top ten strongest WWE wrestlers, we will make it grandiose. We will shout out loud the name of Kurt Angle as he is one of the craziest wrestlers that we have seen. His style could never be copied. He was fast, furious and used various techniques to beat up his opponents. He was the tornado in the WWE scene.
Name
Kurt Steven Angle
Ring Nickname
Kurt Angle
Debut
August 20, 1998
Height
183 cm
Weight
100 kg
Although he did not have the size of some other prominent gigantic WWE wrestlers, he knew how to use his abilities to overcome opponents even bigger than him. His wrestling career began in 1996 with participation in Extreme Championship Wrestling. Later, in 1998, he joined the World Wrestling Federation/Entertainment. There was a time when he suffered a neck injury. However, he got into action soon after he recovered.
Other Most Popular WWE Wrestlers
The wrestlers that we listed in our top-10 chart are extremely successful and have managed to become iconic heroes to WWE fans around the globe. However, the WWE championship knows lots of other wrestlers too. They also have strength, skills and the ability to make a unique show and more or less have succeeded in making a good reputation in this sport.
For example, Booker T is another very popular wrestler that did not step back in terms of strength and abilities. We will also remember Chris Benoit, despite the tragic circumstances around him and his family. Another WWE wrestler that will also leave his name in the hearts of millions of fans is Edge, who is considered to have won the WWE championship more than everyone else. Chris Jericho is also among those who stood out with his exceptional performance in the ring.
Brief WWE History
The WWE championship originates from 1963. Then, Buddy Rogers was the first wrestler to become a champion. However, the first forms of WWE wrestling are associated with events that took place together with other competitions of the National Wrestling Alliance. Later in 1991, the WCW World Heavyweight Championship was established. In 1993, the WCW gained strong marketing positions and started to compete with WWF. However, in 2001 WWF purchased the WCW. Later in 2003, after combining all titles, WWF was renamed WWE.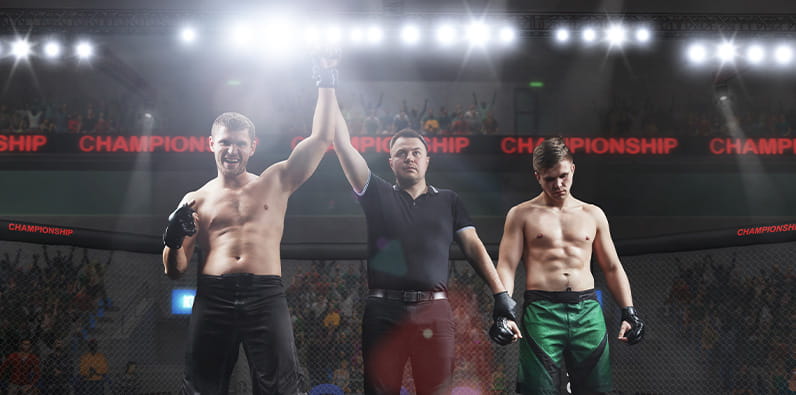 The WWE championship consists of several brands or competitions. Among them are "SmackDown!", "Raw" and "ECW". In previous years, the WWE managers participated in a lottery in which WWE wrestlers used to be assigned to a particular brand to compete with the other wrestlers who were assigned there. With the development of internet technologies, later it became even easier for WWE fans to access the best gambling sites and bet on WWE events.
WWE Wrestlers Frequently Asked Questions
If you still need more details regarding the strongest WWE wrestlers of all time or more information about WWE, then have a look at the section below. We have tried to select the most frequently asked questions about the WWE wrestlers and to give brief answers that contain the information that you may need.
💪 Who were the strongest WWE wrestlers?
Many wrestlers deserve your attention. However, some of them have managed to become extremely popular during their active years. If you want to know the names of the biggest stars, check out the full list of the strongest wrestlers in WWE. Be sure that your favourite idols are among them.
🥇 Who are the top 10 best WWE wrestlers?
The history of WWE know lots of competitors and wrestlers who have managed to become champions more than once. Some have even been proclaimed as ultimate champions for having won the title more than anyone else. The WWE top 10 strongest wrestlers have the best combination of power, skills and stage performance.
💰 How much do WWE wrestlers make?
This depends on how popular each particular wrestler is. WWE knows many wrestlers who have literary become starts. Competitors like "The Rock" are know for being highly paid wrestlers. However, mind that the top ten strongest WWE wrestlers have faced many challenges and difficulties to accomplish the necessary respect.
🤼 How many wrestlers are in WWE?
The number of WWE wrestlers have changed over the years. Before the most famous ones like Hulk Hogan, for example, there have been many other prominent wrestlers. It will be difficult to count all of the best strongest wrestlers in WWE as the championship promotes new wrestlers almost every year.
🏋️‍♂️ What makes WWE wrestlers so strong?
To be so strong and powerful, many of the WWE wrestlers train hard. As you might see, our list of the strongest WWE wrestlers includes players with an exceptional physique. Many of the other WWE wrestlers are also trained well and show good abilities. Many of them have been trained not only in wrestling but other martial arts too.