Neymar Jr ✔️ Poker Player and PokerStars Ambassador
The poker star Neymar has taken a seat at the hottest tables and poker duels. We have dedicated this article to his achievements and games on the green field and the casino tables. We will start our article with an introduction for those who have never even heard of Neymar Jr. If you already know who he is, feel free to use the table below and jump to the desired section of our article.
Who Is Neymar Jr?
On February 5th 1992, a cute baby under the sign of Aquarius was born in Brazil. The proud parents Neymar Santos Sr and Nadine da Silva named the child Neymar da Silva Santos Junior. That day, no one suspected that this little boy would become a football superstar before and then known as Neymar "poker player" who frequently plays for charity causes.
Football was a large part of Neymar's childhood because almost every boy in Brazil is dreaming of becoming a major football star. As a son of a former football player, Neymar was one step closer to this dream. Knowing this, it is easy to believe that the baby's first toy was a football ball.
As the years passed, Neymar, advised by his father, began to develop his talents. He started playing street football with the rest of the children, started futsal practice, and joined a football club. This beginning in the game put him on all great pro footballers' path even before Neymar learned how to read and write.
The Grown-Up Neymar
Growing up, Neymar devoted himself to expanding his mind and his football skills. He had to study and work as hard as any other pro player. Today, we can see that he is quite an accomplished person and can speak Spanish alongside his native Portuguese. His open-going and friendly manner is the main reason he draws the fans and inspires many football players.
Neymar Jr's dedication to football (which we will discuss later in this article) and the constantly growing fanbase add to the succeses of his charities, multiple business, and promotional campaigns. The brightest examples are Neymar Jr's Puma collection with shoes, jerseys, and sports training equipment. He is also featured in the video games Pro Evolution Soccer 2012, Pro Evolution Soccer 2013, EA Sports FIFA, and Fortnite in 2021.
Neymar's immense popularity and busy schedule did not prevent him from having a personal life. In 2011 his fans congratulated the superstar for his son – Davi Lucca, born on August 13th, whose mother is Neymar's former girlfriend, Carolina Dantas.
Neymar Jr the Poker Player
We included information about Neymar's football achievements and charity events in the next sections. First, we will tell you how Neymar plays poker and why he loves it. In the next paragraphs, you will learn how he started playing poker, what are his greatest achievements, and where you can play against him.
First Steps in the Poker World
As Neymar Jr stated many times, poker is one of the great games he aims to master to perfection. Once he learned the rules of the game and how to read poker tells, he was ready to hit the tables.
It is unknown exactly when Neymar's fascination with poker began, but he likes the game so much that he named his dog Poker. Neymar Junior poker fans watched his first steps and advancement into the poker games on live Twitch stream. You can check our list of the top 10 best poker sites in the UK and find where he likes to play.
Once he got ahead of the game, Neymar hit the tables of popular casinos. In 2015, Neymar poker games included a $25,000 high roller event in a major poker circuit at EPT Barcelona, where he played with his friend Gerard Pique. What followed were multiple events, peripheral overflow rooms, and more games. Alongside the prize poker games, Neymar took a seat at many charity games and played for fun. A year later, he sat at the WSOP final table in Rio, Las Vegas.
PokerStars' Poker Star Neymar
Neymar Junior poker games appearances skyrocketed when he joined the PokerStars team (2015-2017). This was when his fans noticed that poker shows the difference between chance and skill. In one of the first PokerStars games, Neymar went for a $215 buy-in game at the $1 million GTD Sunday Million tournament. He busted early, then re-entered and finished 474th (out of 5008 entries) and won $559.71.
During his time at PokerStars, Neymar had the chance to play with many celebrities and some of the best poker players. He was a member of the Team Sports Stars ambassadors before the comedian Kevin Hart replaced him and the Olympic gold sprinter Usain Bolt joined the game.
Neymar Jr also took part in PokerStars' #RaiseIt campaign and WSOP tournaments. Some of the most famous athletes Neymar played against are:
The football legend and poker ambassador Ronaldo
The former German tennis pro Boris Becker
Dutch field hockey player Fatima de Melo
Super Bowl champion (3 titles) and former Patriots defensive end Richard Seymour
Neymar added private live Sit&Go games with Brazilian professional poker players Andre Akkari and Felipe "Mojave" Ramos. All those live events helped him improve his game, and in 2018, Neymar Jr reached the final table of the BSOP's High Roller tournament, where he finished sixth. A year later, he finished 12th at the SCOOP's Sunday Warm-Up and won $6,719.08.
Neymar Jr Re-Joins PokerStars in 2021
Google searches like "Neymar poker player", "Neymar net worth", "Neymar PokerStars", and many more ranked Neymar Jr as one of the most googled athletes of 2020. The wonderful news that he re-joined the PokerStars team was like a great Christmas present to his fans. This time, Neymar is going to show us more exciting poker games against professional male and some of the best female poker players.
The changes in the legal gambling requirements pushed the operators to change their gambling advertisement policies. PokerStars was the first brand to create safer gambling TV ads and turn all PokerStars casino players and responsible gaming teams towards the future of live and online poker. Neymar joined this initiative head-first and with a smile, just like in every other aspect of his career and profitable hobbies.
Neymar's Poker Achievements
Neymar plays poker whenever he has some free time. Undoubtedly, his dedication and hard work to improve his game can lead him to the poker Hall of Fame, where he will sign his name next to the great full-time poker players. In the meantime, we will enjoy his games against other athletes, pro gamblers, supermodels, and actors like John Boyega.
The "Neymar poker player's tips" you can follow are not to enter too aggressively into the game because there is a greater chance of losing. The second life-saving advice is to maximise your wins and, at the same time, minimise your losses. As we see from Neymar, he always has a positive attitude and never regrets folding when there is no chance of winning. Those tips laid a great start to Neymar's poker career and his achievements so far:
PokerStars Ambassador
Total Winnings: $21,072
Global Poker Index Ranking: 140,142nd place
Brazil All-Time Money List: 1,453rd place
All Time Money List Current Rank: 76,527th place
All Time Money List Best Rank 65,901st place
Popularity Ranking: 6,857th place
Neymar's fans follow every single step he makes on his website, Instagram, Twitter, Facebook, Twitch, and YouTube. Besides being the most googled athlete, Neymar also ranks in the top 20 list of the most followed Instagram accounts globally. His live streamed poker games on Twitch frequently jump over 1.3 million followers. You can easily find him on social media and even play against him on PokerStars.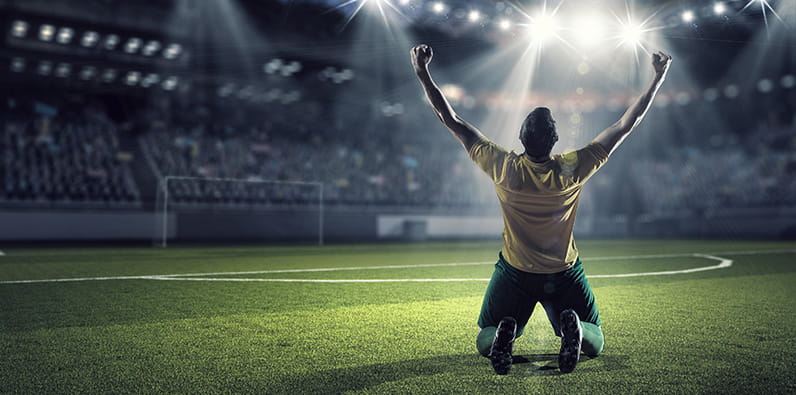 Neymar Jr's fame started with his achievements on the football field in Brazil. The improvement of his sports talent and hard work transformed an advancement path into a highway to superstardom. Neymar's excellent games can be seen online, and some of the devoted football fans even bet on his games at the best sports betting sites in the UK. Before telling you about his greatest achievements, we will tell you where Neymar's pro football career started.
Neymar's FC Career
Way before we knew about Neymar poker playing skills, we watched him grow on the green grass. In our short Neymar Jr's life story we told you about his life as a child. Now, we will go into details about his pro career from the start until the present day. In 2003, his family moved to Sao Vicente, and he started playing for the youth side Portuguesa Santista. Ever since the first day on the field, Neymar Jr proved that he has the determination and consistency to develop his gifts.
Neymar was a central and second striker, winger, and attacking midfielder during his career, depending on the team. Regardless of the position he played at, he always showed us a master game, and that is why Neymar is described as "a true phenomenon". It is doubtful that every football club wants him as a player, but it is a fact that only a few can afford his paycheck.
Football Club
Year
League Appearances
League Goals
Neymar's Age
Trophies
Santos FC
2003-2013
177
107
11-21
6 Titles
Barcelona
2013-2017
125
114
21-25
13 Titles
Paris Saint-Germain
2017-Present
97
79
25-Present
9 Titles
Starting small and reaching the top is typical for Neymar. With a motto: "boldness is my nickname" it is clear that this is a man who can achieve everything he sets his eye on. You can see how he applies positive approach, consistency, and boldness at the football field, in charity functions, and actually, every time when Neymar plays poker.
Neymar Jr's Football Achievements
Neymar won 6 titles with the Brazilian National Team and 1 title with the Brazilian Under-20 Team. The multiple other achievements rank him as one of the biggest football superstars and the most expensive player transferred between football clubs. Some of his greatest achievements in his international career are:
South American Youth Championship and Copa América 2011
Summer Olympics and first hat-trick 2012
Confederations Cup 2013
World Cup 2014
Copa América 2015
Summer Olympics 2016
World Cup 2018
Will lead up to the 2022 World Cup
Those are just the main events in his listing of achievements. In the period 2010-2020, Neymar scored 105 goals in 186 appearances. At the age of 27, the Brazilian footballer completed his 100th game for the Brazilian National Team in 2019. This is proof that his aim to perfect dribbling, shooting, headers, and control pays off.
Neymar's Charity Acts
The poker star Neymar takes part in multiple charity programs. His non-profit civil association "Neymar Jr. Institute" was created in 2014, in Praia Grande, São Paulo, Brazil. This institute's objective is to expand the opportunities for socially vulnerable children, adolescents, and families. The association's main activities are sports, cultural activities, promoting education, providing access to health care, and more.
When it comes to poker, Neymar faces opponents with a friendly smile. Just like the well-known Ben Affleck charity poker game, Neymar also joins this kind of charitable tournaments. Regardless of the charity function, viewers always have fun watching the games and enjoying Neymar's positive attitude.
The number of charities Neymar Jr takes part in are with UNICEF, the United Nations International Children's Emergency Fund, and other organisations. His latest donation was over $750,000 for the fight against COVID-19. Most of his donations become known worldwide thanks to the wide media coverage and via his social media accounts. Even so, just like most celebrities, Neymar often makes private donations.
Neymar Jr – Poker Player FAQs
We dedicated our article to all Neymar poker achievements and added some info about his stardom football career. Now we will answer some of the most popular fan questions regarding Neymar Jr's poker games, achievements, and more.
🎂 When is Neymar's birthday?
Some of the newest fans on social platforms know mostly about Neymar's poker skills. Unlike them, his devoted fans know when Neymar's birthday is, his sign, favorite color, marital status, and details about his personal life. Neymar's great personality draws people's attention, and they are eager to see his next football or poker performance.
🃏 Who is Neymar Jr in the poker world?
The poker star Neymar played this classic table card game for a long time before he decided to join the big game. We can see his Twitch live stream games and watch him take part in poker tournaments at land-based casinos. Neymar's opponents have been celebrities of all ranks and all kinds of professions.
😎 Why is Neymar not playing only football?
Neymar poker player achievements are part of his hobbies and charity functions. Between 2015-2017, Neymar was PokerStars ambassador and rejoined the team in the beginning of 2021. As Neymar has stated, he loves both poker and football, so it is doubtful that he will quit either one of them any time soon.
⚽ What team does Neymar Jr play for now?
Neymar Junior poker activities do not interrupt his football career. Currently, Neymar plays as an attacker in Paris Saint-Germain FC and the Brazil National Team. So far, the young footballer has scored high personal achievements on international and domestic championships, and his teams have won the top trophies.
🎗️ What is the Neymar Jr Institute?
The Neymar Jr Institute is a non-profitable civil organisation that helps children, teenagers, and entire families. This is his main charity, but Neymar plays poker and football games for different causes. He also makes generous donations to the fight against COVID-19, UNICEF, and UN projects and events.