Floyd Mayweather Wins ▷ The Best Fights of the Boxing Champion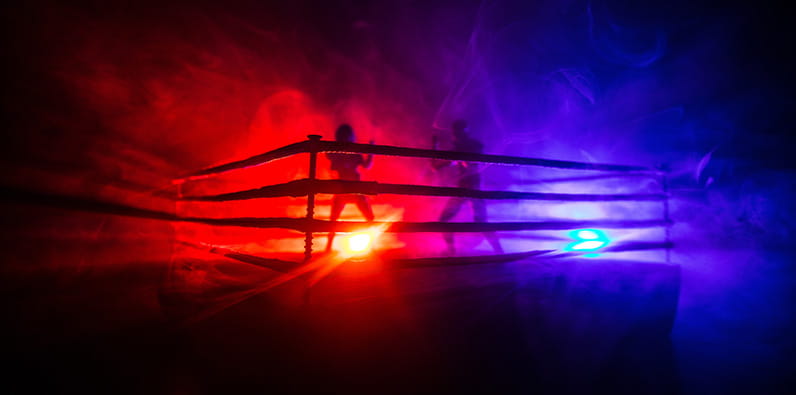 In the following Floyd Mayweather wins article, we'll have a look at some of the greatest fights of the boxer. We will say a few words about his personal life, career achievements, playing style and net worth as well. We'll also share a few interesting facts about the boxing moneymaker. As final remarks, we'll answer some of the most popular questions regarding Floyd Mayweather fights, win record and more. Feel free to use the navigation menu below and jump straight to the topic that most interests you. So, are you ready to rumble?
Floyd Mayweather – A Money-Making Machine and a Boxing Legend
Floyd Mayweather is a professional boxer born in the United States who competed officially between 1996 and 2015. Throughout his whole career, he has been fighting mostly with the best fighters in the sport, and his incredible 50-0 record shows that he should be considered the best pound-for-pound fighter of his generation. In the following table, you can see some basic information about Floyd 'Money' Mayweather.
📛 Full Name
Floyd Joy Mayweather Jr.
👀 Nickname(s)
Money, Pretty Boy
🎂 Date of Birth
February 24, 1977
📍 Birthplace
Grand Rapids, Michigan, U.S.
👊 Total Professional Fights
50
🥇 Total Mayweather Wins
50
🔨 Mayweather Wins by KO
27
🏆 Achievements & Major Titles
WBC Super Featherweight Champion, WBC Lightweight Champion, WBC Super Lightweight Champion, WBC Welterweight Champion (x2), IBF Welterweight Champion, WBA Welterweight Champion, WBO Welterweight Champion, WBC Light Middleweight Champion (x2), WBA Light Middleweight Champion, and more.
💰 Total Career Earnings
$1.1 Billion +
🤑 Mayweather Net Worth
$450 Million (2020)
Mayweather's fighting style is second to none. His incredible technical ability and defensive brilliance have been unmatched, making him a joy to all. Both hardcore boxing fans and experienced sports betting lovers had 'Pretty Boy' in their A-lists for an entertaining sportsman who is likely to bring you some profits if you bet on him winning a game. He can easily be named boxing's richest athlete as he has rarely bagged less than $50 million from a single fight.
Top 5 Floyd Mayweather Fights
After we said a few words about Floyd Mayweather and his overall career achievements, it is time to turn our attention to some of his greatest fights ever. We have made a shortlist of the 5 best and most anticipated (and most profitable) Floyd Mayweather fights. Obviously, all of them have one significant thing in common – Mayweather wins all of them while bagging a significant amount of money. Here is our selection:
Even though Mayweather has officially retired (for now), and it's not possible to win some fast and easy money betting on him, that doesn't mean that boxing lovers can't place wagers and enjoy boxing betting. Here is our recommendation for the best boxing site, where there's an abundance of betting opportunities, bonuses and competitive odds.
Sports Betting Site
Bonus
Highlights
Rating
Secure Link
1. Betway
£10 In Free Bets
Valuable Betting Markets
Competitive Odds
Superb Mobile Compatibility
4.95 ★ out of 5
Floyd Mayweather vs. Miguel Cotto
In May 2012, the Purto Rican Miguel Cotto gave quite the challenge to Mayweather. The fight was held at the MGM Grand Garden Arena in Las Vegas, and the WBC super welterweight diamond belt was at stake. It was certainly one of Mayweather's toughest fights, after which he even claimed that Cotto managed to push him more than anyone else. Check out the video below to see some of the best moves and highlights of the fight.
Despite the fact that Cotto even managed to bloody Floyd's nose, he won no more than three rounds on any card. Mayweather won the fight in 12 rounds by a unanimous decision, improving his win record at the time to 43-0. He landed 26% of his total punches and 34% of his power punches. The fight generated $94 million in PPV revenue from more than 1.5 million purchases, which made it the second-biggest non-heavyweight fight in history. Mayweather earned around $40 million while Cotto settled for nearly $8 million.
Floyd Mayweather vs. Oscar De La Hoya
Even though Oscar De La Hoya was no longer in his prime, there was a lot of hype and outside-the-ring drama before the event. The fight was held at the MGM Grand Arena in Las Vegas in May 2007, and it is still one of the most historic boxing events of this century. Mayweather won the fight by split decision in 12 rounds and claimed the World Boxing Council light middleweight title.
"Look at the punch-stat numbers, and you can see why I'm the new champion tonight. I just fought the best fighter in our era, and I beat him." Floyd Mayweather after the fight against De La Hoya.
The fight is regarded as the one after which Mayweather truly became one of boxing's superstars. It set the record for most PPV buys for a boxing match, with more than 2.4 million households. It raised Floyd Mayweather wins record to 37:0, and despite the split decision and the very close scores given by the judges, the fight was pretty much one-sided. 'Money' Mayweather just executed his game plan perfectly.
The punch statistics for the fight showed 'Pretty Boy' landed 207 total punches (122 for De La Hoya) and 138 power punches (82 for De La Hoya). The fight generated around $137 million in revenue by the PPV. Despite losing, Oscar De La Hoya ended up earning approximately $52 million, while $25 million went into Mayweather's pocket.
Floyd Mayweather vs. Diego Corrales
There's rarely a more exciting and anticipated event than a match between two young undefeated and very promising champions. Such was the case in January 2001, when Floyd 'Money' Mayweather was about to clash with Diego Corrales. Somebody's 0 loss record had to go. At the time, Corrales, aka Chico, was at the height of his career. He was actually the favourite to win the fight, but a ferocious and much faster Mayweather proved all his doubters wrong.
Those of you who are not that familiar with boxing may often wonder why some matches look like they're being played in slow-mode and why do boxers hug. Well, this game was not like that at all. Both fighters were very energetic (both were 23 years old at the time), and there were a lot of punches thrown. But all in all, it was a genuine beating, as Mayweather knocked down Corrales five times and landed 220 punches.
During the whole game, 'Pretty Boy' was restless and never slowed down. A lot of tactical movement and an aggressive counter-attacking strategy helped him hand the first career loss of Chico. He knocked him down three times in the seventh round and twice in the tenth, after which Corrales' corner threw the towel, effectively ending the bout with a TKO.
Floyd Mayweather vs. Manny Pacquiao
The boxing match between the undefeated five-division world champion Mayweather and the eight-division world champion Pacquiao in 2015 was labelled the Fight of the Century and Battle for Greatness. The two fighters were supposed to meet long before this date, but disagreements and troubles in negotiations always postponed the event to a later date. Finally, the match was confirmed, and an eight-page agreement was in place.
Sadly, many people think that the dynamic Filipino was completely out of his prime in 2015 and pointed this as the main reason why "Money" Floyd won the fight. But even if that's close to the truth, Mayweather showed an incredibly impressive display. His aggression, overwhelming intensity, and dazzling defensive skills completely destroyed Pacquiao, once again confirming how fast, accurate and devasting Mayweather can be. Have a look at some of the best moments of the fight.
The fight completely lived up to the revenue expectations, generating somewhere between $300 and $400 million in gross revenue. The match attracted more pre-orders than any other PPV event in broadcaster's history. It also broke the PPV viewership record in the United States, with 3.6 million buys. Mayweather reportedly won around $250 million, while Pacquaaio took home about $200 million. It was number 47 in the Mayweather wins list, and it was billed to be his last fight, as he already had some serious intentions of retiring with a perfect record.
Floyd Mayweather vs. Connor McGregor
Of course, we can't make a selection of the best Floyd Mayweather wins without mentioning probably one of the biggest, most anticipated, and most talked-about fights in the history of fighting sports. Labelled 'The Money Fight' and 'The Biggest Fight in Combat Sports History', the boxing match between Floyd 'Money' Mayweather Jr. and Connor 'Notorious' McGregor was held at the T-Mobile Arena in Paradise, Nevada, on August 26, 2017.
The excitement and expectations before the fight were huge. And rightfully so, as two of the most popular, successful and entertaining fighters on the planet were about the stand against each other on a boxing ring. Obviously, Mayweather was hugely favoured by the most popular live betting sites due to the fact that McGregor was not exactly a boxer, but a UFC fighter.
And the fight certainly did not disappoint. McGregor started very strong and made Mayweather abandon his usual stick-and-move style. But as the fight progressed, McGregor began to fatigue slightly. Mayweather still had enough power, despite the many punches he took and started to attack aggressively. He managed to land a series of punches to McGregor's face in round 9, and after the onslaught continued in round 10, the referee called the fight in favour of Mayweather.
The event generated more than 5 million PPV purchases. After the fight was done, the total estimated revenue was around $700 million. Mayweather went home with a paycheck of nearly $300 million, while McGregor earned around $130 million. The fight took Floyd Mayweather wins record to 50, which was enough for him to officially announce his retirement (for the third time).
Interesting Facts
Now that we have given you a few short reviews on the best Floyd Mayweather wins, we will say a few interesting and maybe little-to-know facts about one of boxing's greatest icons. After all, 'Money' Mayweather is a hugely successful and very entertaining sportsman, and there was always action around him, whether on or off the ring. When talking to the media, he rarely cared about other people's opinions and loved to talk about money.
He turned professional on October 11, 1996
His father and two uncles were also boxers
He dropped out of High School to pursue a boxing career
His father was a drug dealer, while his mother was an addict
He experienced his first knockout by Carlos Hernandez in 2001, but he won the fight
He was sent to jail for domestic abuse and released after two months
He fought one of the biggest WWE wrestlers, the Big Show, at WrestleMania XXIV
He has announced his retirement three times
His car collection includes a $3.5 million Bugatti Chiron, a $5 million Koenigsegg CCXR Trevita, a $1.4 million Pagani Huayra, alimited edition LaFerrari Aperta and three Bugatti Veyrons
He owns two private jets
He has multiple luxurious mansions around the globe but mostly lives in a 22,000 sq ft custom-built mansion in LA
FAQ
As our Floyd Mayweather wins article has come to an end, it is time for us to address some of the most popular and commonly asked questions about the topic at hand. Spare a few more minutes with us and learn some more intriguing facts about Floyd Mayweather wins record, fights, personal life and net worth.
🥇 How many wins does Floyd Mayweather have?
The Floyd Mayweather wins record is absolutely perfect. He has played a total of 50 professional fights, and he has lost none. He is certainly one of the greatest and most popular athletes in sports history ever. Have a look at our selection of the top Floyd Mayweather fights.
🤑 How much is Floyd Mayweather worth?
As of 2020, Floyd Mayweather's net worth is around $450 million. He's one the few athletes whose earnings have surpassed the $1 billion mark, and have overtook even those of the richest footballers. He managed to earn more than half a billion dollars from just two fights. He's ranked as the fifth highest-paid athlete of all time.
🥊 How Floyd Mayweather wins fights?
Floyd 'Money' Mayweather has a perfect win record of 50-0, with 27 of his fights ending by knockout and 23 by decision. His defensive-minded fighting style has been described as explosive, unmatchable and superhuman. His fast and powerful combinations, one-of-a-kind reflexes and undeniable hunger for success made him the most successful and most feared fighter of the 21st century.
❓ When did Floyd Mayweather retire?
Floyd Mayweather has announced his retirement on three occasions. The first time was after the fight against Ricky Hatton in 2007. The second time was in 2015 when he announced his retirement in the ring after defeating WBA interim champion Berto. His third and final retirement (for now) was after his win against Connor McGregor on August, 26, 2017.
💰 How much did Floyd Mayweather make in biggest fight?
The most beneficial and productive (money-wise) boxing match among all of Floyd Mayweather fights is certainly the one against the 'Notorious' Connor McGregor in 2017. 'Money' Mayweather earned around $300 million, while his opponent pocketed around $130 million. Have a look at our Boxing vs. MMA article and learn about the main differences and biggest similarities between these sports.