Blackjack Card Games 2021 ✔️ Blackjack Card Game Rules & Variations
Of course, if you want more information about the top blackjack games in 2021, please read the article below. You will find a thorough overview of online blackjack variations and their respective niches. We go into detail about all the important aspects that factor into a positive gaming experience.
Blackjack Card Game: Rules and Moves
There are many blackjack games online, each with its own spin on the original formula. A new player might be intimidated by the sheer number of different blackjack casino games, but there are more similarities than differences. All in all, developers work with a limited pool of gameplay features, including or excluding them depending on the variation in question.
All blackjack card games come with the same base set of rules. These may change between the different variations of blackjack, but the goal is always to have a better hand than the dealer without going over 21. Depending on the game's current state, you can take specific actions to maximise your chances. Here is a brief overview of the moves you can take in modern blackjack card games:
Blackjack Games Online Moves:
Hit: Hitting means that you want the dealer to give you one more card to your hand. You can hit as long as you don't go over 21, in which case the game will bust you automatically.
Stand: This move signals the dealer that you don't want any additional cards to your hand and are ready to show off against that of the dealer.
Split: Splitting is available when you are dealt a pair of the same card, e.g. two 7s or two 8s. To split, you have to place an additional bet, and your hand is split into two. Each hand will receive an additional card.
Resplit: Resplitting comes after you have split your hand once and are dealt the same card to one of your hands. Depending on the variation, you will be able to split it once again at the cost of an additional bet.
Double Down: This move is when you are certain that your hand is strong and wish to double the size of your bet. When you double down, the dealer will give you one more card, and you stand automatically.
Surender: Certain blackjack card games give you the opportunity to surrender after the initial deal. This means that you give up your hand but reclaim half of your original wager.
Insurance: This move is available when the dealer receives an Ace as their first card. It is a side bet worth 50% of your base wager. If the dealer hits blackjack, you are paid 2:1 and sustain no net loss from the hand. Conventional wisdom advises against Insurance bets since they rarely pay and there is no profit to be made even if they do.
As you can see, blackjack game rules are relatively straightforward. This makes the game accessible to all kinds of players, including both casual and serious gamblers. Below, we will get into the specifics of different blackjack card games and how each variation is unique.
Casino Games: Blackjack Top 10
As we have stated above, there are many different casino games blackjack fans can enjoy. Modern online casinos are host to dozens of variations, all with a specific twist to gameplay. It can be somewhat challenging to pick one without first knowing how it all works. For this reason, we have compiled a small list of the most popular variations available at the best blackjack casinos for 2021. We provide a brief overview of how each title plays and what the core blackjack card game rules are.
1. Perfect Pairs Blackjack – 99.51% RTP by Felt Gaming
Perfect Pairs Blackjack is named after the intricate side bets options featured in this variation. Specifically, you place a side bet on whether you will be dealt a pair of a certain type. Depending on the rarity of the pair, you earn more or less money. Specifically, any pair will net you 6:1, whereas a coloured pair gets you 12:1. If you are lucky enough to receive a pair of the same suit – a perfect pair – the payout goes up to 25:1.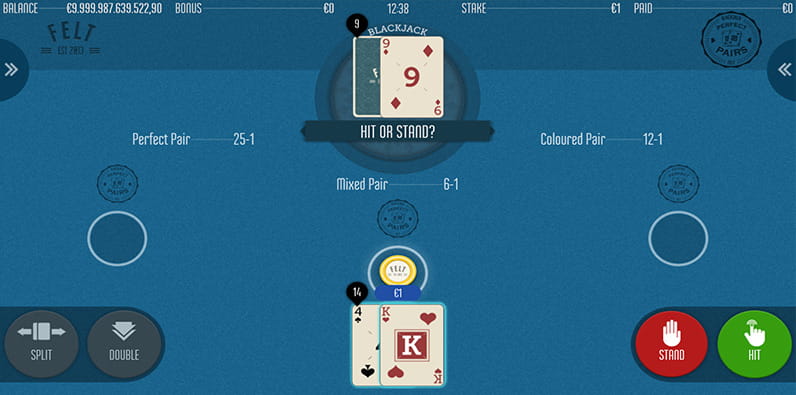 Other than that, this blackjack card game rules are pretty good. A blackjack hand has the standard 3:2 payout, and the dealer stands on soft 17s. You get to split once, double after splits, and hit on split Aces. Generally, Perfect Pairs Blackjack is the main attraction at the best Finnish blackjack casino sites, which shows how much players love this game.
2. 21+3 Blackjack – 99.51% RTP by Felt Gaming
21+3 Blackjack is another variation created by Felt Gaming that might interest you. Much like the one above, this game also gets its name from the unique side bet options. Inspired by the rules of poker, the 21+3 side bet rewards you with up to 100:1 if you get a certain rare combination. Specifically, the 21+3 wager pays when you form one of the following combinations with your original hand and the dealer's card – flush, straight, three of a kind, straight flush, and suited trips.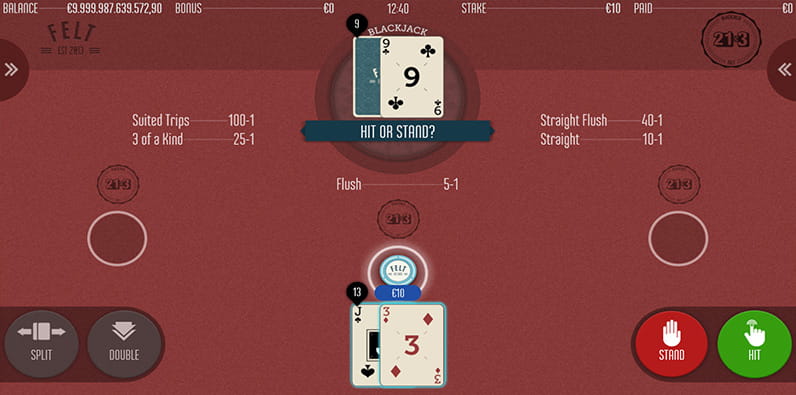 The base game features RTP values of 99.51%, while the side bet returns 92.86%. 21+3 Blackjack is played with six standard decks, while a blackjack hand pays 3:2. The dealer stands on soft 17s, and you can double down on hard 9s through 11s. Doubling after splitting is available, as is hitting on split Aces. Multihand play is also supported. 21+3 Blackjack is especially popular at German blackjack casinos, and we are not surprised in the least.
3. Blackjack Surrender – 99.66% RTP by Playtech
Blackjack Surrender is one of the top blackjack card games that you can play online. Its name is derived from the surrender function, which allows you to give up on your hand and receive half of your wager. This means that you can make the best out of a bad situation and keep losses to a minimum.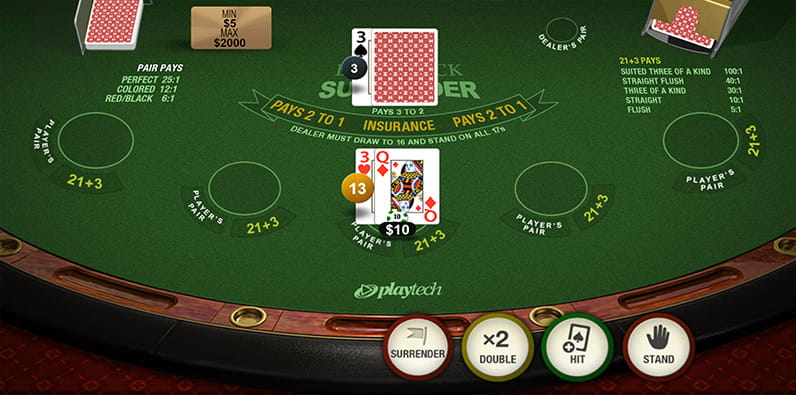 With Blackjack Surrender, you get one of the highest RTP blackjack games online. Specifically, this title has theoretical returns of 99.66%, which gives you some of the best odds on the Internet. Multihand is supported, and you play with the standard six decks setup. Furthermore, you get the benefit of doubling down after a split, though you cannot resplit hands. Irish blackjack sites will commonly include this title in their gaming libraries, giving players the opportunity to engage in some high-quality blackjack gaming.
4. Blackjack Classic – 99.65% by NetEnt
Blackjack Classic is another impressive game that you might enjoy. This one presents the game in its most basic and pure form. You get to try your hand at the original and most beloved version of blackjack. The favourite of many fans around the world, it is a great way to get into this game type.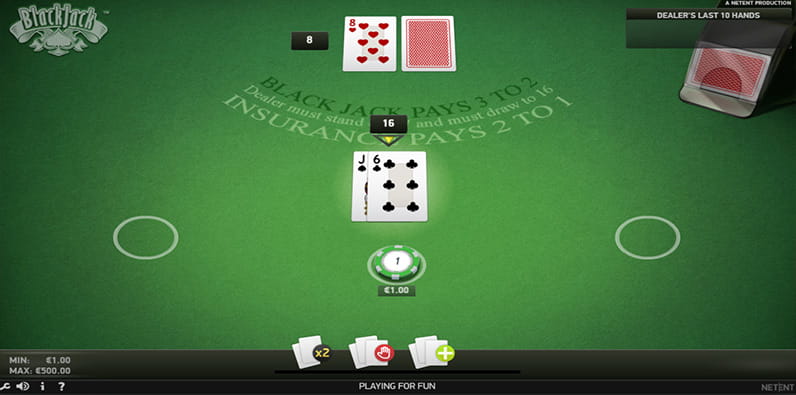 Classic Blackjack is played with only four decks, a deviation from the standard six-deck setup. The game comes with an RTP of 99.65%, which any blackjack veteran will recognise as great odds. A blackjack payout is 3:2 while the dealer stands on soft 17s. Doubling down after splitting is available, and you can play with multiple hands at once. All in all, Blackjack Classic is a premium game. Seeing how the best New Zealand blackjack sites rely on it, it is a staple in the genre.
5. Cashback Blackjack – 99.55% RTP by Playtech
Cashback Blackjack is another Playtech classic that we think you would enjoy. The unique cashback feature is what makes this title as exciting as it is. It gives you the opportunity to make the best out of your hand, providing you with an early payout based on your current hand. Experienced players may make great use of this feature and generate some extra cash as a result.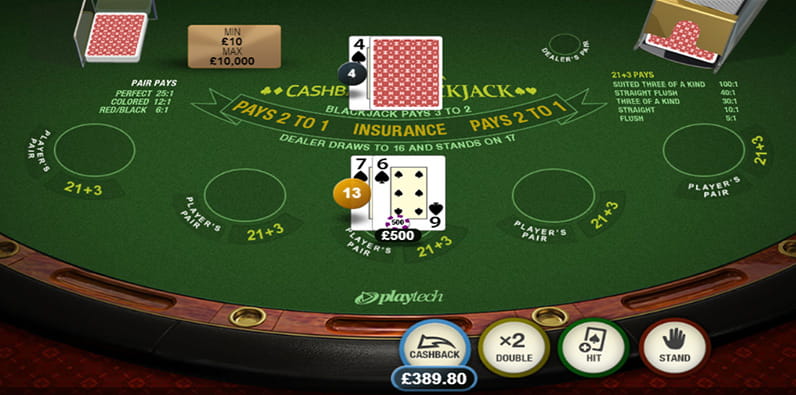 Of course, you also get a world-class blackjack experience with this game. It is played using the general six-deck setup, and a blackjack hand pays 3:2. As per usual, you can split hands, and double after a split and hit on split Aces. Multihand is also an option, allowing up to five hands. The theoretical RTP is 99.55%. This kind of game can be found at most Swedish blackjack online casinos.
6. Blackjack Professional Series – 99.53% RTP by NetEnt
One of the finest NetEnt blackjack games online, Blackjack Professional Series puts you in the middle of the action. This title is known for its high-quality gameplay and visuals, allowing you to experience how blackjack is meant to be played. The special feature of the Blackjack Professional Series is the Double Jack side bet. It is basically a twist on the Perfect Pairs, where you are rewarded for being dealt one or multiple Jack cards to your initial hand.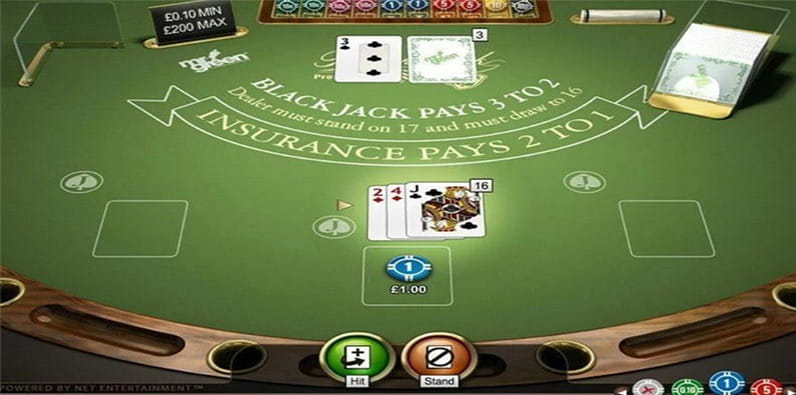 Aside from that, you get to enjoy pure blackjack gameplay. Notable is that this game uses four decks in place of the usual six. Still, we also have to say that resplitting and hitting on split Aces is not available. But you can double down on any hand, which is a bonus. Those of you who frequently play at Japanese blackjack sites may be familiar with this game, and if not, we recommend you give it a try.
7. Single Deck Blackjack Professional – 99.59% RTP by NetEnt
Another NetEnt entry on this list, Single Deck Blackjack Professional is undoubtedly one of your best options. As you can imagine, the selling point of this blackjack game is that it is played with a single 52-card deck. This is not usually the norm with online casino games blackjack fans are used to. Playing with fewer decks makes calculating cards and odds much easier and efficient.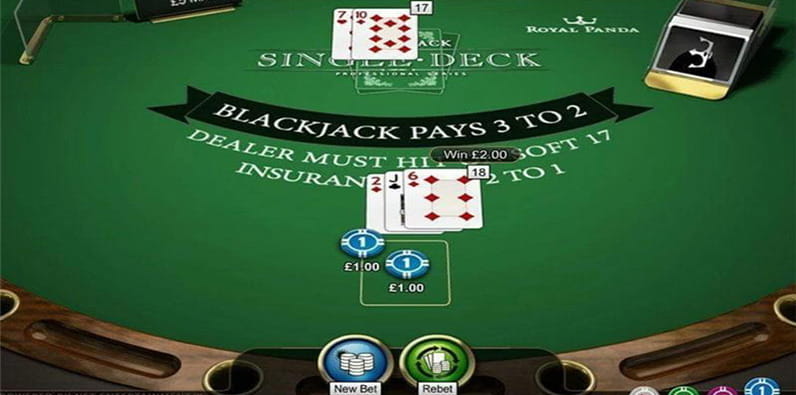 Of course, the single-deck feature is offset by the lack of certain moves. Specifically, you cannot surrender, resplit, double after a split, or hit split aces. Multihand is also not available when playing with one deck. Still, this is expected as keeping these features would push the house edge into the players' favour, and we can't have that. Despite the lack of certain features, Single Deck Blackjack is popular with players all over the globe, especially at Malaysian blackjack casinos.
8. Vegas Downtown Blackjack – 99.62% RTP by Microgaming
Have you ever wanted to visit Vegas and play in the downtown casinos? Well you don't have to do that with Vegas Downtown Blackjack. This game takes after the traditional Vegas blackjack formula and presents it to you in the virtual format. A Microgaming classic, Vegas Downtown Blackjack is an excellent version of the game to enjoy for both new and veteran players.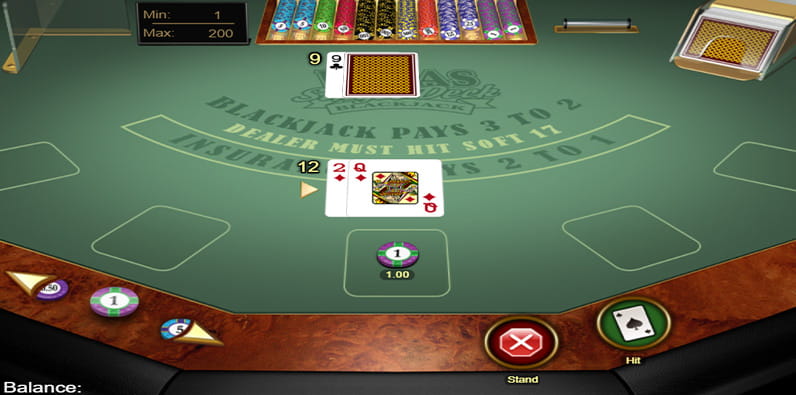 The blackjack card game rules are quite favourable, making this variation quite popular. For one, it is one of the few titles to be played with two decks. Moreover, you gain the full set of moves after a split, along with multi-hand support. The theoretical RTP of Vegas Downtown Blackjack is 99.62%, above average for this kind of game. As you can imagine, this variation is immensely popular with players, especially at the top Philippines blackjack sites.
9. Atlantic City Blackjack Gold – 99.65% RTP by Microgaming
As famous as it is, Vegas is not the only major gambling city in the US. Atlantic City is a close second, and there have been some great games to come out of this gaming metropolis. Atlantic City Blackjack Gold by Microgaming was inspired by the state-regulated blackjack variant which made East Coast casinos famous.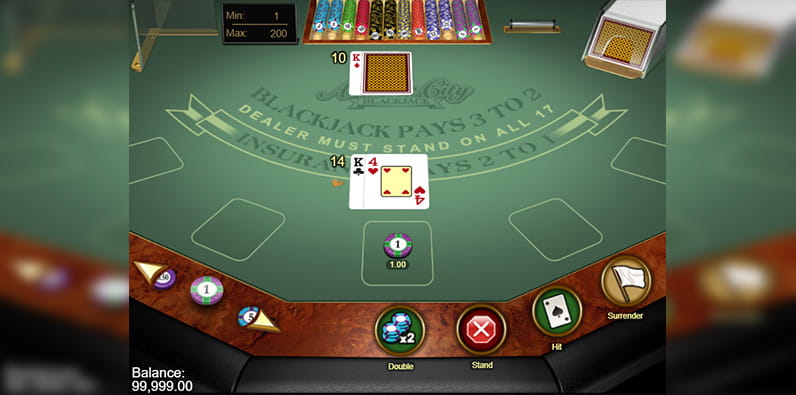 Worth pointing out is that Atlantic City blackjack always features the same rules defined by the gaming authorities in Atlantic City. This means that you will play with eight decks and earn 3:2 for every blackjack hand. Unfortunately, the multi-hand is not a supported feature, but you can have every move following a split that you can imagine. Specifically, this includes resplitting, hitting split Aces, and doubling after a split. It is no surprise then that Atlantic City Blackjack is a major selling point of the best Indian blackjack online casinos.
10. Double Exposure Blackjack Pro Series – 99.33% RTP by NetEnt
Double Exposure Blackjack Pro Series is the last entry on this list, and it is an interesting game, to say the least. The main draw of this game is that both of the dealer's cards are face up. There is no hidden hole card that can surprise you. This gives you the chance to plan out your upcoming moves with more accuracy.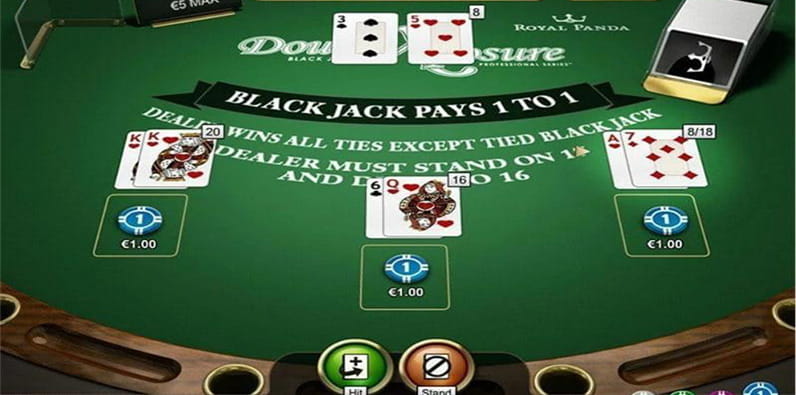 Naturally, we can't have a significant benefit without a hard trade-off. Specifically, the winnings from a blackjack hand are reduced to 1:1, the same for any other hand. Moreover, you don't get the chance to resplit or hit on split Aces. Surrender is not an option, nor is insurance because of the game's design. The theoretical RTP is 99.33%, using perfect strategy. While this variation is not for everyone, it has certainly found a devoted player base. Currently, it is a significant point of interest at Pakistani blackjack casino sites, and we recommend you give it a chance.
Popular Questions
If you still have questions about blackjack card games, please have a look at the FAQ section below. We have done our best to include the most pressing player questions on the subject. Following this, we think you will be fully informed about the best blackjack variations on the Internet.
🏆 What are the best blackjack card games?
There are too many variations out there for us to choose a single one. We advise you to choose from our top 10 blackjack games online and see which works best for you. Each has a different spin on the genre, allowing different players to enjoy their preferred version.
❓ What moves can I make in blackjack casino games?
Blackjack games come with a wide range of possible moves. These include the standard hitting or standing, but also splitting, insurance, doubling down, and more. Knowing when to make the right move will be crucial for your blackjack gaming experience.
💻 Where can I play casino games blackjack online?
You can enjoy plenty top-tier games at the best blackjack casinos in 2021. We have carefully chosen these operators based on a number of factors, including game availability, bonus offers, player feedback and satisfaction levels. You can be certain that you will have a positive experience at any of them.
🥇 Which blackjack games online have the best RTP?
The blackjack game with the highest RTP is Blackjack Surrender. It features return percentages of 99.66%, which is above average even for blackjack titles. Playing at the best odds is recommended no matter what casino game you enjoy. The high RTP is on account of the surrender element, which allows you to minimise losses.
✅ Which blackjack casino games are the easiest to play?
If you are looking to get into blackjack card games, then we have some recommendations. Blackjack Classic is an excellent starting point for any new player. It perfectly showcases the original blackjack formula and does not go overboard with confusing side bets or other tacked-on features.