Biggest WWE Wrestlers ▷ The Strongest, Heaviest & Tallest Pro Wrestlers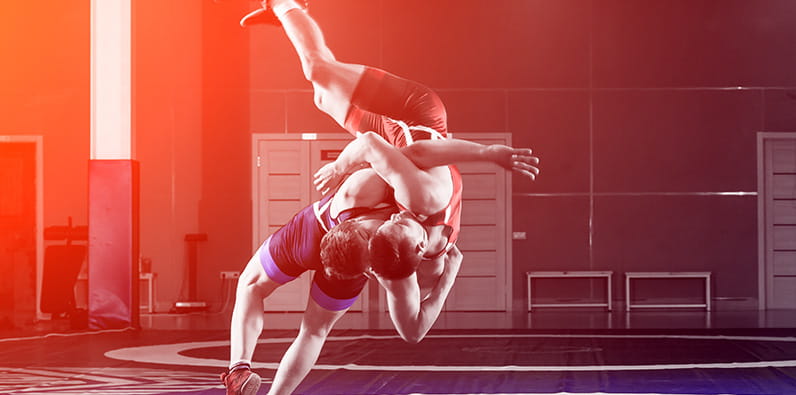 In this article, we will turn your attention to wrestlers who have more than one champion quality. You can find out who are the heaviest WWE wrestlers with the biggest muscles or highest fighters with incredible fighting skills. In the table below, you can see that our listing is divided into groups depending on different qualities that define a great fighter. The first part of our article is dedicated to the list of qualities we used to rank the players.
WWE Wrestlers Qualities – What Makes the Best
Since WWE was founded in 1980, it has been a home for hundreds of amazing wrestlers and superstars. It may seem hard to believe, but today, there are 207+ superstar wrestlers, and their number keeps growing. Some of them are known as the biggest WWE wrestlers, others as the strongest, and some as the best fighters. The most famous ones have found a place in our article.
✨ Qualities
Top Wrestler
🌲 Height
Andre the Giant
🧸 Weight
Happy Humphrey
🏋️ Strength
Mark Henry
💎 Career in WWE
The Undertaker
🏆 Wins In-Ring
John Cena
🤴 Charisma
Dwayne "The Rock" Johnson
📺 Fanbase/Marketability
"Stone Cold" Steve Austin
In the next paragraphs, we will list many of the best wrestlers, and you will notice that they all fit into all those categories. That is due to the constant search for better, bigger, faster, and stronger wrestlers. The famous WWE wrestlers' hard work pays off, and they remain in the fans' hearts for generations.
Wrestling in WWE, MMA, and boxing have always delivered an incredible entertainment for the masses. The popularity of the athletes and the desire to make money from their strength create special sports betting sessions. Some of the UK's best WWE betting sites for 2021 offer a wide range of wagering opportunities and even give information about the players.
Best Big & Tall WWE Wrestlers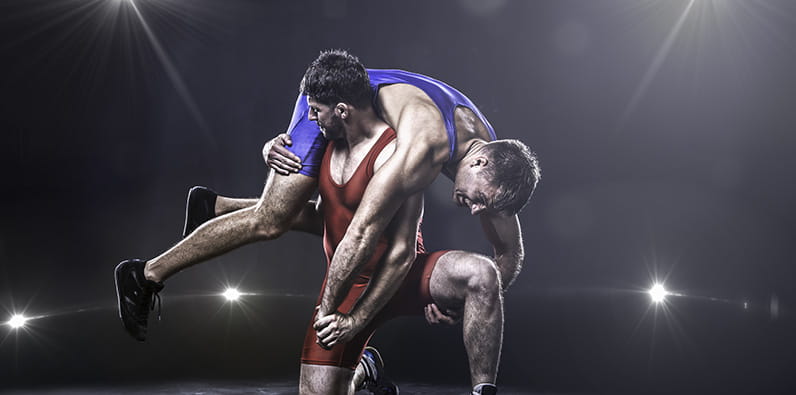 The heaviest WWE wrestlers are a force to be reconciled when they step on the ring. All fighters enlisted in the lines of WWE (World Wrestling Entertainment, Inc.) have some spectacular features. For example, Happy Humphrey with his 800 pounds will stay known as the heaviest wrestler, followed by the 600-pound Yokozuna (WWE Hall of Fame 2012), 500 pound Viscera, and the 474-pounded Jerry Blackwell.
Other wrestlers are tall, have an incredible physique or can lift a crazy amount of weights. And then some have it all. In this category, you can find out who are the wrestlers that combine strength, height, power, fighting skills, and even lengthy career at WWE.
The Undertaker
There are few people worldwide who have never heard of the Undertaker. He signed with the WWE in 1990 and has been a fan-favourite ever since. His status as one of the best WWE wrestlers of all time is due to his height of 6'8″ (2.08 meters), weight of almost 300 pounds (137 kg), and excellent fighting skills.
The Deadman managed to tombstone Mark Henry, and with this shocked Michael Cole enough to say: "No f**ing way!" His Hell's Gate submission manoeuvre and the old school top rope attacks are the reason to be called the best pure striker in WWE. It is doubtful that you will find another famous WWE wrestler on this list that the Undertaker did not defeat.
André the Giant (André Roussimoff)
Andre the Giant ranks as one of the heaviest and tallest WWE wrestlers with height of 7'4″ (2.25 m) and 540 pounds (244 kg). He is the second tallest wrestler after the 8'0″ (2.40 m) Giant Gonzales. His size brought him to the WWE ring, where he fought against Hulk Hogan, Big John Stud, and other players. His achievements won him a place at the WWE Hall of Fame.
Kane
The masked Devil's Favourite Demon Kane is 6'9″ (2.07 m) high and weighs 324 pounds (147 kg). This mountain of a man may not look ripped, but he had the strength to achieve 461 wins in the 2000s and won a backstage arm-wrestling competition. Kane started as a villain and even attacked his brother, The Undertaker, before the group therapy transformed him into a fairly good guy.
Big Show
Another addition to the heaviest WWE wrestlers is the Big Show, with 441 pounds (109 kg) and a height of 7'0″ (2.13 m). He signed with the company in 1999 and became known as the World's Largest Athlete. During his first match in 1995, Big Show won the WCW Championship and continued to collect titles in ECW, WWE, and WCW Championships. Once, he even tipped over a Jeep.
Haku (Meng)
You may think that wrestling is just a show, but there is real action like in boxing vs MMA or any other martial arts tournament. One of the truly dangerous wrestlers that ever signed up with WWE is Haku. He is one of the most dangerous fighters alongside Bret Hart and Chris Jericho. That and the fact that he broke handcuffs without tools won him the title "the street fighter of professional wrestling".
Mark Henry
This giant entered the WWE Hall of Fame in 2018 and forever remained known as the World's Strongest Man in WWE. With 6'4″ (1.93 m) height and 360 lb (160 kg) weight, Mark Henry is still one of the biggest, tallest, and strongest wrestlers. He has broken several records as a former Olympic weightlifter, broke powerlifting records, and won the Arnold Strongman Classic in 2002.
WWE Wrestlers With Impressive Strength and Physique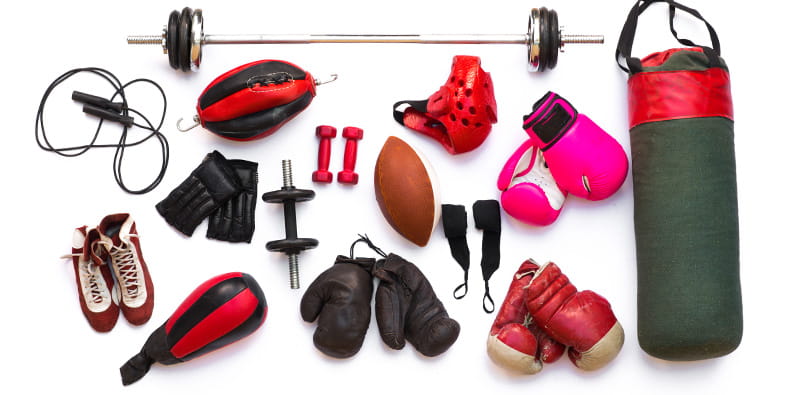 Being amongst the heaviest or tallest WWE wrestlers is nothing if you don't have muscle power. Some of the most loved and admired wrestlers have incredible physique and chiselled bodies. The incredible strength and excellent bodies allowed Rey Mysterio to win 441 fights and Chris Benoit to mark 403 victories and become an example of resilience and strength.
Bill Kazmaier called himself "the strongest man who ever lived" and won three consecutive World Strongest Man titles (1981-1983) before WWE got scared that no one could beat him and banned him from participating. Kazmaier also set numerous powerlifting records before attempting to win the WCW World Championship.
Bobby Lashley is one of the strongest WWE wrestlers who arrive prepared to fight. In his first years as an amateur wrestler, he also worked on joining the Olympics team. Bobby proved his dangerous fighting skills in WWE and on the MMA ring (he finished with a 15-2 record, 6 knockout wins, and 6 submission wins).
Brock Lesnar is one of the most dangerous and biggest WWE wrestlers. Becoming a champion in college amateur wrestling opened his path to WWE, where he proved to be a top pro wrestler. Lesnar also ruled over the champions at UFC by winning the top title. His career ended due to a severe illness.
Kurt Angle, the Olympic gold medallist, entered the WWE Hall of Fame in 2017. Angle's career is marked by winning an Olympic wrestling gold medal in 1996 and the World Championship. He joined the WWE in 1999 and proved to be worthy of winning the King of the Ring crowns and WrestleMania main events. There were even rumours that this tough wrestler fought Brock Lesnar at WrestleMania XIX with a broken neck.
Randy Orton "The Viper" has been with the WWE since 2001. In 2004, he became the youngest world champion by pinning Chris Benoit for the World Heavyweight title at SummerSlam. Today, Randy has 13 WWE titles, two tag-team titles, an Intercontinental championship title, a US title, and two Royal Rumble titles.
Top WWE Wrestlers in Movies
You learned who are the strongest, tallest, and heaviest WWE wrestlers. In the last section of our article, we will tell you who are the fighters who continued to delight us with their fighting skills after the end of their wrestling careers. Besides being crazy popular and loved worldwide, some of the athletes below are also some of the richest WWE wrestlers in the world.
Dwayne The Rock Johnson
Dwayne Johnson has 83 movie roles, including the Fast & Furious series, Game Plan, The Tooth Fairy, and more. He is known as one of the biggest WWE wrestlers with a stunning physique that captured the ladies' attention. Charm, muscles, and fighting skills took him through the University of Miami football team, a great wrestling career, and Hollywood.
Batista
We have seen Batista in 36 movies. Perhaps his most memorable and fan-favourite role so far is Drax in The Guardians of the Galaxy (Vol. 1 and Vol. 2). Batista's fame started when he entered the WWE Hall of Fame in 2019 after being a main event star for years and one of the strongest WWE wrestlers. He is known to be able to lift a ridiculous amount of weights in the gym, and even though he officially retired from wrestling, he is still in top shape.
John Cena
Cena is undoubtedly the greatest WWE fighter with 608 wins, 16 WWE champion titles in the 2000s, 5 US champion titles, 4 tag-team champion wins, and 2 Royal Rumble wins. Cena proved that he is ridiculously strong by lifting the Big Show for an Attitude Adjustment and having the Edge (240lb) lying on top of him. Today, we can enjoy his fighting skills, humour, and incredible physique in over 34 movies like Bumblebee (2018), The Marine (2006), Fast & Furious 9 (2021), and more.
Stone Cold Steve Austin
Stone Cold is not one of the heaviest WWE wrestlers, but he is one of the greatest wrestling fighters since 1989. After becoming known as Stone Cold in (1995-2004), he held a total of 19 championships throughout his wrestling career. The titles won at WWF, WWE, and WCW made him a perfect choice to join the rest of the great fighters in the WWE Hall of Fame (2009). In addition to that, his fans can see him in 33 movies like The Expendables (2010), The Condemned (2007), Hunt to Kill (2010) and more.
Hulk Hogan
Hogan is another example of the strongest and tallest WWE wrestlers known for great action comedies and family-friendly movies like Mr. Nanny (1993), Santa with Muscles (1996), and classics like Rocky III (1982). This "larger than life" superstar entered the WWE Hall of Fame in 2005. That achievement is well deserved after his amazing wrestling career and slamming down Andre The Giant at WrestleMania III.
Triple H
"The Game" is one of the most famous and fan-favourite WWE superstars. His 381 wins and incredible physique draw attention and made him popular even on the big screen. Even though Trippe H does not have the blockbuster career of Dwayne Johnson, John Cena, or Batista, we can see him in Blade Trinity (2004), The Chaperone (2011), Inside Out (2011), and more.
Biggest WWE Wrestlers – Popular Questions
Our article on the biggest WWE wrestlers gives in detail who are the biggest, tallest, strongest, heaviest, and most dangerous fighters. We will answer the most popular questions our readers have regarding the WWE wrestlers' top qualities.
🔝 Who are the biggest WWE wrestlers?
It is quite easy to see which wrestlers are tallest or appear to be bigger than their opponents. Defining which one is the strongest might be difficult because the fighters are rarely ripped and chiselled. We listed the most important and biggest WWE wrestlers' qualities to help you understand what makes each wrestler great.
🙋 Who are the tallest WWE wrestlers?
Being able to look down on your opponents is extremely intimidating. That is why the most feared WWE Superstars are over 7'0″ (210 m) and have the weight and strength to support their height. So far, two of the tallest WWE wrestlers are Andre the Giant and Giant Gonzales (8'0″ or 2.40 m).
✔️ Who is the WWE wrestler with the longest career?
Wrestling is a dangerous sport that puts the heaviest WWE wrestlers' bodies through great tension. To have a successful and extensive career, a fighter possesses all top wrestler qualities. So far, the longest active wrestling career of 30+ years belongs to The Undertaker. He uses his height, strength, and fighting skills to defeat stronger, heavier, and younger wrestlers.
💪 Which are the strongest WWE wrestlers?
It is easy to see who the heaviest or tallest WWE wrestlers are, but we need more information than what our eyes can give us when it comes to strength. Our strongest WWE wrestlers list is based on reports of fighters who are able to lift crazy amounts of weights and have an impressive physique.
🎬 Which WWE wrestlers act in movies?
The biggest WWE wrestlers become superstars because of their physical qualities and charisma. The fans want to see their favourite fighters as much as possible, and that opens the doors for WWE wrestlers to Hollywood, TV productions, and other sports. We made a list of WWE movie star wrestlers that are loved worldwide.
🏅 Who is the No 1 WWE wrestler?
Undoubtedly, the number one WWE wrestler is John Cena with 608 wins. He might not be one of the tallest or heaviest WWE wrestlers, but his strong and chiselled physique is the base of his victories. Besides a great fighter, Cena took on an acting career and, so far, has over 34 movie roles with more to come.
🎥 Who is the wrestler with most movies?
Dwayne "The Rock" Johnson can easily be called a muscle giant. His incredible body and strength rank him amongst the strongest and tallest WWE wrestlers. In addition, Dwayne's charm, sense of humour, and millions of fans are the reason for his success outside of the ring. We can see Dwayne Johnson in more than 80 movies and TV shows.